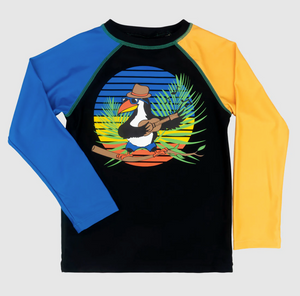 Protect their skin from the intense sun with our Long Sleeve Rash Guard in Blue and Yellow. Featuring a fashionable, ukulele-strumming Toucan. Pair with the Mid Length Swim Trunks in Toucan Jungle!80% Nylon, 20% Elastane
Imported.

CARE INSTRUCTIONS:
Rinse immediately after use. Machine wash cold, gentle cycle, with similar colors or hand wash for best results. Drip dry in shade. Do not bleach, wring, tumble dry, dry clean or iron.

UPF:
(Ultraviolet Protection Factor) indicates how much UV (both UVB and UVA) a fabric allows to reach your skin. A UPF 50 fabric blocks 98 percent of the sun's rays and allows two percent (1/50th) to penetrate, thus reducing your kid exposure risk significantly and enabling them to play safely in the sun!